The Fundraising Challenge for Nonprofits
Whether your nonprofit organization is big or small, you might face challenges funding projects or just keeping your organization up and running. We know you work hard day in and day out to follow your mission and aid in the community, and that you don't necessarily have a ton of time to devote to raising money.
Your energy and effort shouldn't be spent on selling cookie dough, candles, magazines, and wrapping paper. You don't have time to run a bake sale or a can drive, or plan and organize an auction or event. But you still might need a one-time fundraising boost or even a long-term funding solution. So where do you turn? Turn to a fundraiser that fits with your daily schedule and lifestyle instead of fighting with it. Turn to scrip.
---
What is Scrip Fundraising?
Scrip is fundraising while you shop. Here's how it works: members of your organization will buy a scrip gift card through your scrip program. They'll pay the full face value, but they'll earn an immediate rebate percentage that's typically between 2% and 16% depending on the retailer. Then they use that gift card on their normal purchases. You're not spending extra money, and there's no selling involved— you're just earning for your organization!
Benefits of Scrip Fundraising
No extra time, money, or energy spent.
No selling unwanted products to your family and friends.
Earnings add up quickly— families can

earn $1,000 or more per year.

It's a great budgeting tool, and it fits with every financial situation.
We offer over 750 retailers, so you can use scrip for practically anything.
Online ordering lets families buy and use eCards whenever they want.
The funds you earn are immediately accessible.
It's habit forming— you'll want to use scrip all year long.
Another great thing about scrip? Unlike other fundraisers where all of the earnings go toward a general fund scrip lets you share earnings with members of your organization. That way, they can decide whether to put their money toward participation fees, supplies for your nonprofit, or any other expenses.
Nonprofit Fundraising Success Story
In over 22 years of business, we've helped more than 30,000 nonprofits raise money with scrip fundraising. From collegiate clubs and Greek life groups to various charities and animal shelters, tons of nonprofits have trusted scrip to raise money.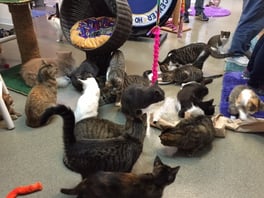 One of our nonprofits raises money for furry, four-footed friends. Angie L., from Defiance, Ohio, is using scrip to support the Friends of Felines' Rescue Center (FFRC). "The FFRC is a no-kill cat rescue where every cat matters!" Angie said. "The funds received from scrip are used for medical needs, the spaying and neutering of all cats, food, litter, cleaning supplies, cat toys and furniture, bedding, and flea treatment."
Angie has loved getting to "support the daily needs of hundreds of kitties that come to FFRC waiting to be adopted into their Fur-ever Home," and she's thankful that scrip has made it possible.
Want to Start Your Program?
You've now learned about scrip as a great fundraising idea for your nonprofit organization. You understand the benefits of scrip, and you've seen how successful another organization has been. Here's more good news: you can start raising money almost immediately. All you have to do is enroll your organization, invite members to join, and place your first order. Your program will earn rebates, and your members shop with scrip!
After placing your first few orders, you'll be able to tailor your scrip program to fit your organization's needs. You'll figure out how to set the order schedule to benefit your group, and you'll have a better idea of whether to offer online ordering to members or not. The important thing to keep in mind is that there's no quota you have to meet and no set timeframe. Scrip is fundraising on your own clock.